Brush trimming helps eliminate homes for animal pests and disease spreading insects. We Clear and cut:
Overgrown Pastures
Overgrown Backyards
Thick Heavy Brush
Snowmobile and Horse Trails
Ditches • Steep Areas
Wet Areas Along with offering:
Mini Excavator for Digging and Drainage
Hauling and Removal of Manure, Debris, Gravel, Compost, etc.
BrushCutting the Broestler Way
We have just what you need to get the job done.

The machine in this photo can reach down a bank, into a ditch, up a tree or along a waterway with it's 22 foot arm.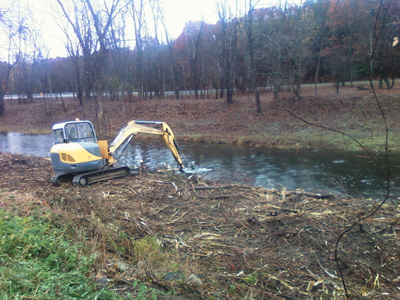 Our machines can navigate wet, swampy areas, hill sides and rough terrain to help you keep brush at bay.
See our results page to see some of our recent work.